In the words of Mona Abdallah: "I consider working in community service as a blessing."
Mona Abdallah is a 35-year-old community leader who works in the media field and is passionate about serving her community in Ezbet El-Borg village in Damietta Governorate. Abdallah is one of 13 female participants who attended the "Designing Marketing Plans" training workshop that took place in Ras El-Bar city in September 2020. The workshop, organized under UN Women's Safe City and Safe Public Spaces programme in Damietta, focused on equipping the participating women with the required knowledge to set marketing plans for various products they develop such as confectionery, crochet, food products and wooden decorations. The programme is implemented in partnership with the National Council for Women and in collaboration with local civil society organizations, with the generous support of the Kingdom of the Netherlands.
Date: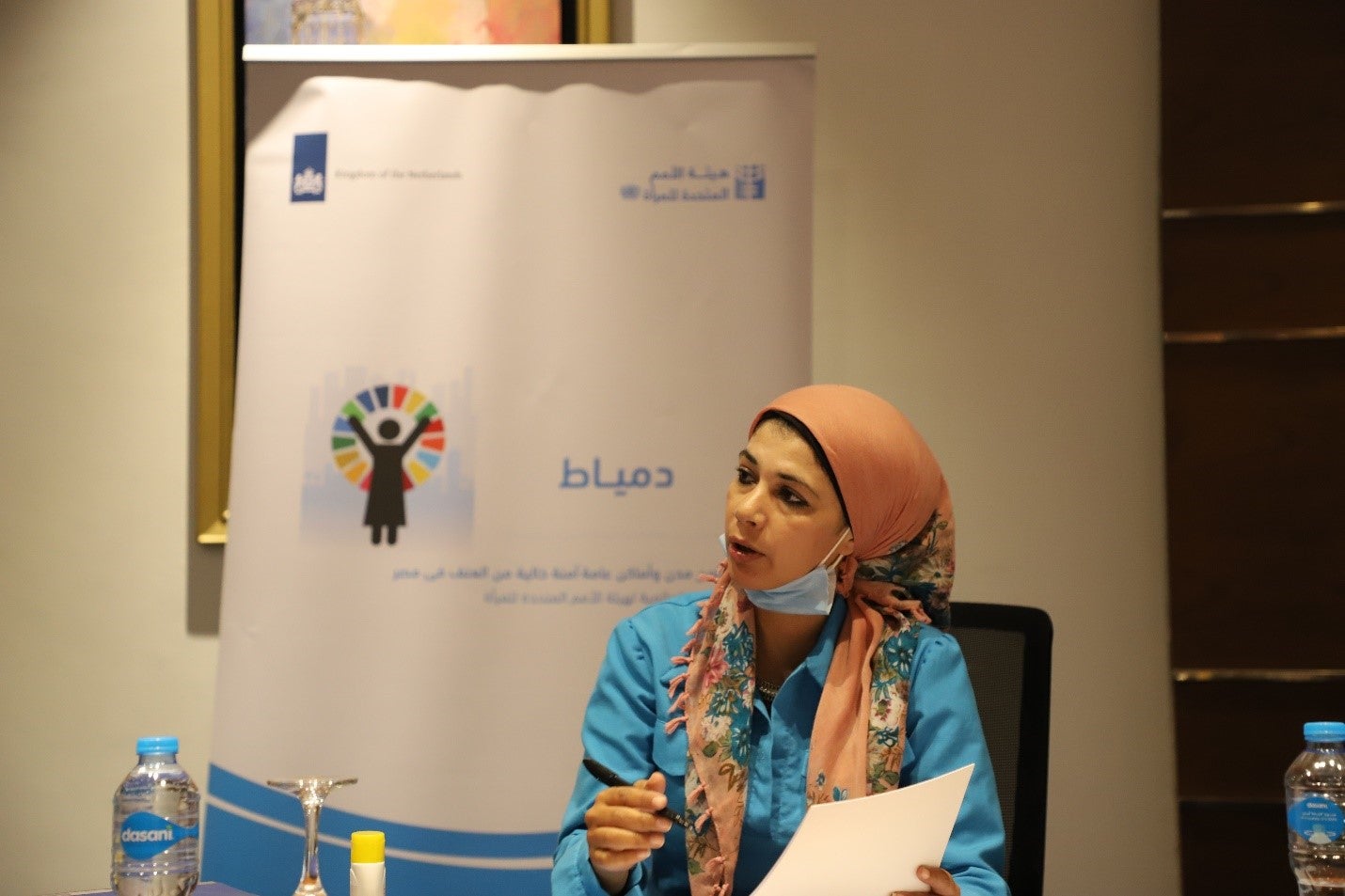 "I'm a wife and a mother of 3 girls, and I'm the sole breadwinner for my family. Due to personal circumstances, my husband does not live in the country and now I'm playing the role of the mother, father, and the breadwinner for my daughters. Currently, I work as a radio presenter and a newspaper reporter.
I've always been passionate about public and voluntary service work in order to help my community of Ezbet El-Borg village in Damietta governorate. I volunteer at several civil society organizations which organize activities related to women's economic empowerment and ending violence against women. Also, I'm the chairperson of Community Development Association in Ezbet El-Borg. We work on several projects with the aim of empowering women and supporting families and persons in need.
Before joining the UN Women training , we didn't know how to efficiently plan for our work. However, after joining the training, we learned how to strategically plan for any project in a scientific and effective way which has positively impacted our professional and personal perspectives.
The training approach was very beneficial and the facilitator, Mona Ezzat [UN Women's consultant and an expert in the field of women's economic rights], was able to simplify the information and made sure it's understood by all participants. The training enhanced our skills so that we can start our own small businesses. Also, the monitoring and follow-up plan after the training is really useful as it helps us apply what we've learnt to manage our businesses. Furthermore, the training was a great opportunity for different handcrafters to get together and create fruitful collaborations to increase their incomes.
I wish we could have more training workshops that would improve our personal and professional skills as well as raise the awareness of both men and women about the great role that women play in society.
The COVID-19 pandemic has affected both men and women. Due to the lockdown period, many of the projects were paused. While some people succeeded in marketing for their work through online social media platforms, others were negatively affected.
I consider working in community service and charitable organizations a blessing. Helping people and seeing them succeed makes me feel happy and successful. I want to continue working on serving and benefiting people, and I believe this is my greatest success."
Read in Arabic.