"It's simple, but will make a difference" Recycling video
In the past, we reused food leftovers in different ways without knowing the term "recycling"...we need to have our environmentally friendly habits back to ensure a sustainable future for the coming generations. This campaign has been developed in partnership with the National Council for Women in line with COP27.
Featured story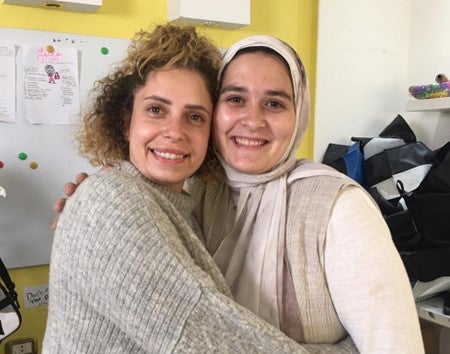 Caring about the environment encouraged two Egyptian women, who were very much into fashion, to take action and transform piles of waste into fashionable products through creating their own brand "Up-fuse". Yara Yassin and Lama El-Khawanky founded Up-fuse in 2013 with a vision that focuses on making a difference in the community through recycling, revolutionizing handicrafts and bringing the community together around one goal that would contribute to having a sustainable planet. Read more>>
"I always had a special passion for handcrafts. My father was and still is my number one supporter. He used to buy me books about handcrafts and arts. I believe that I have a special talent which allows me to understand how a handmade product was made by just looking at it. Read more>>
Awareness-raising Videos on Ending Violence against Women and Girls ( Cyber Violence)
What you have just seen is a form of Cyber Violence! Do you receive messages or calls that threaten you? Are you worried and have no clue what to do or whom to approach for support? Do you know that cyber violence is a crime that is punishable by law? If you or someone you know is subjected to cyber violence and you do not know what to do, watch this video and learn more about protecting yourself and your right!