From where I stand: "We never give up; we adapt and respond to any situation to follow our dream."
Walaa Selim and her business partner Randa El-Fiki are two entrepreneurs in their early forties, from Ezbet ElBorg City in Damietta Governorate. They were among the 13 participants of the training programme entitled "Designing Marketing Plans" which was organized by UN Women Egypt in Ras Elbur City, Damietta Governorate. The training was composed of a series of workshops delivered over the period from September 1st until September 24th, 2020. The training targeted small-scale entrepreneurs from Ezbet ElBorg City and aimed at equipping them with the required knowledge to set marketing and business plans for their various products. Selim spoke on behalf of the team about their business model, the challenges posed by the COVID-19 crisis and how they intend to use the knowledge they acquired through the training programme to expand their business.
Date: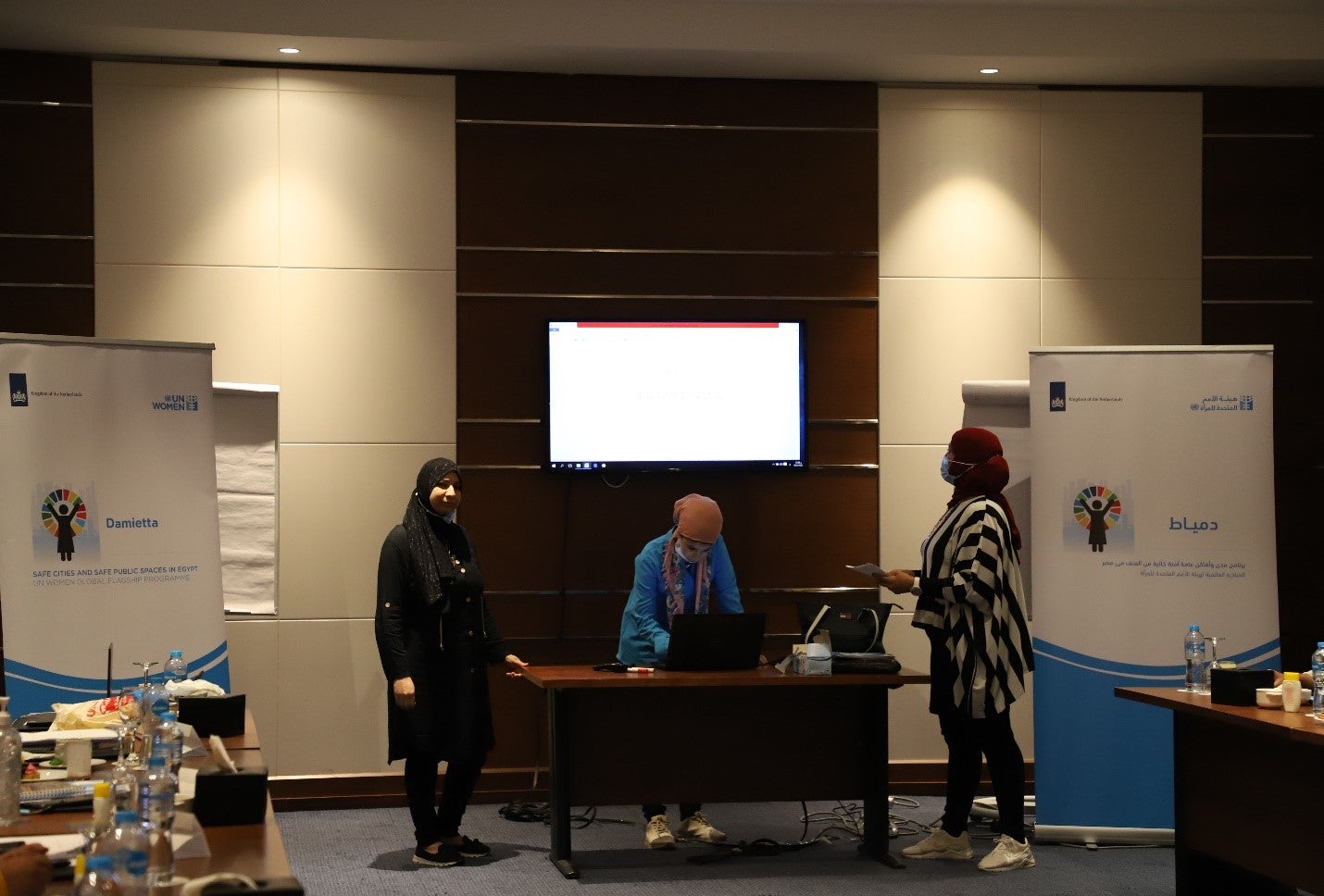 "Two years ago, we used to sell Ramadan lanterns and we noticed that laser engraving technology is now being used for customized designs. We later learned that we could use the same technology for customizing a countless number of products, so we partnered with a laser engraving workshop to design and deliver customized products based on customer requests.
We do not have a shop, so we depend on social events and social media to showcase our samples and accept orders.
I believe that we are the best team in town. Randa takes care of advertising and sales, and I manage the finances and dealing with the suppliers. Our business was doing well until COVID-19 hit and our sales went down to almost zero, but we never give up; We adapt, and we respond to any situation to follow our dream. To respond to this situation, we designed and produced face masks. We were the first business in Ezbet ElBorg to sell masks and we made significant profits during the surge in demand for masks. Then the supply of masks increased and by the time this happened, orders for our laser engraved products started to come back. We are now fortunately back to our main business.
Our dream is to have a permanent location for our business and to afford buying a laser engraving machine because we still depend on a workshop to do the work for us. Therefore, we decided to enroll in the training programme "Designing Marketing Plans" so that we can enhance our business knowledge and skills and prepare for our next move.
The training could not have been more useful or at a better time for us. For example, before participating in the training, I used to mix my personal budget with our business's budget, which made us unable to calculate our expenses, revenue, and profits. Through the training, I learned how to create a budget and how to manage the project's budget efficiently. We also learned about best sales and marketing practices, including online marketing. What I loved the most about the training is that we learned the importance of cooperating and establishing partnerships with other businesses in Ezbet ElBorg rather than competing with them. We are determined to apply all the lessons learnt from the training and we are determined to achieve our dream."
The training programme "Designing Marketing Plans" was organized within the framework of the Safe City and Safe Public Spaces programme in Damietta, which aims at ending sexual harassment and all forms of violence against women and girls, while fostering women's safety, mobility, access to public spaces and economic empowerment. UN Women Egypt implements this programme in partnership with multiple national stakeholders including Damietta Governorate, the National Council for Women (NCW) as well as local civil society organizations in Damietta, and the programme is generously funded by the Kingdom of the Netherlands. This training programme contributes to the achievement of SDG 1: End poverty in all its forms everywhere, SDG 5: Achieve gender equality and empower all women and girls and SDG 8: Promote sustained, inclusive and sustainable economic growth, full and productive employment and decent work for all as it seeks to empower women economically and tackle the gendered challenges that they face as micro and small business owners.
Read in Arabic.