In the words of Samar Ali: "Every woman should have the chance to enhance her skills and capabilities."
Samar Ali is a 32-year-old entrepreneur in Ezbet El-Borg village in Damietta Governorate. Ali is one of 13 women beneficiaries who received the "Designing Marketing Plans" training workshop that was organized in Ras El-Bar city. The training was composed of a series of 7 workshops delivered between September 1st and September 24th, 2020. The workshop focused on equipping women with the required knowledge to set marketing plans for the various products they develop locally. The workshop was organized within the framework of Safe City and Safe Public Spaces programme implemented by UN Women Egypt in partnership with the National Council for Women, Damietta Governorate and in collaboration with local civil society organizations, with the generous support of the Kingdom of the Netherlands.
Date: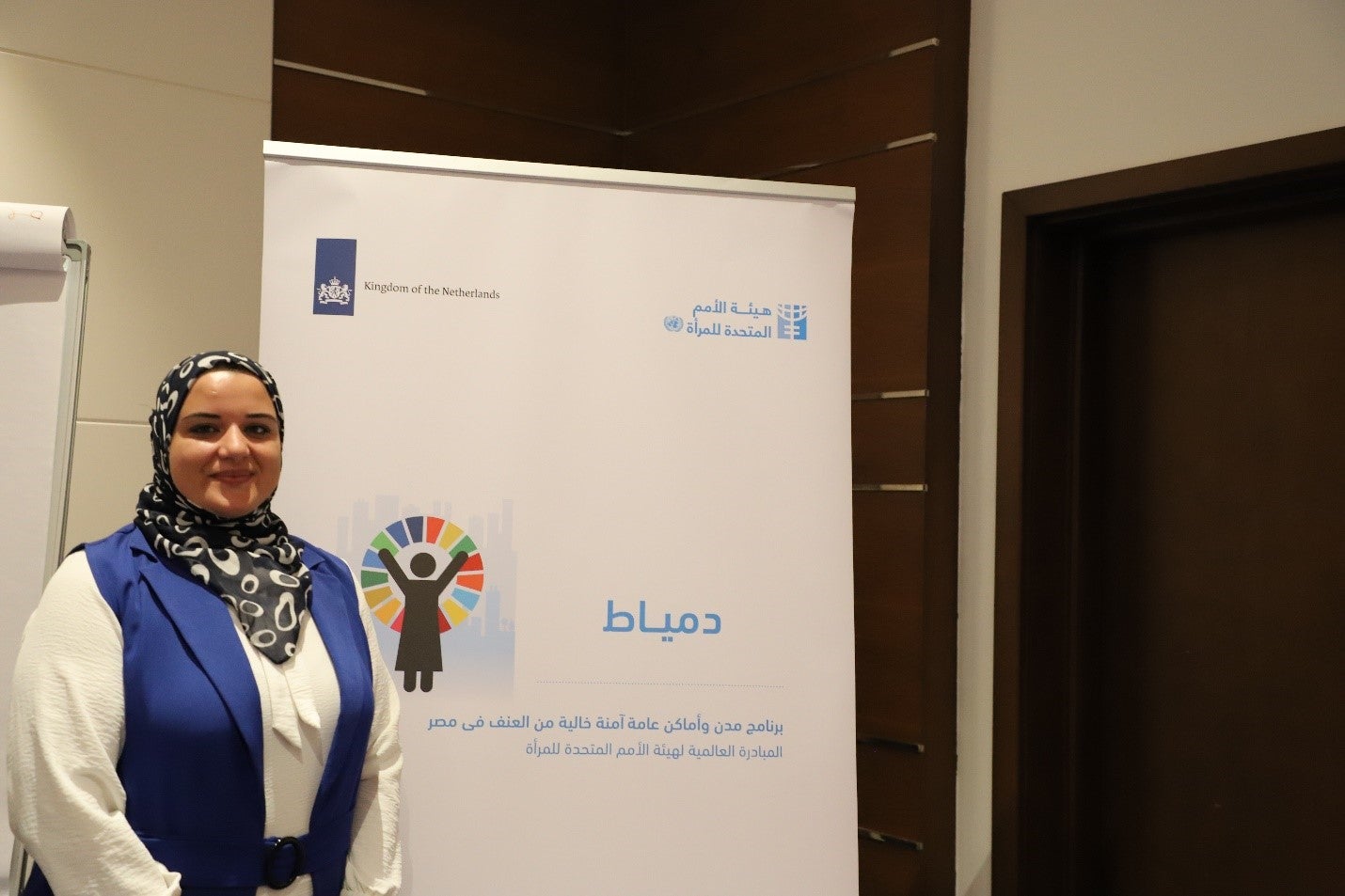 "I'm a mother of one boy and have a diploma in Commerce. Currently, I'm the main breadwinner for my family.
I decided to start my own project 4 years ago. I wanted to prove myself and break the stereotypes against women. I learned handcraft skills through YouTube [videos]. I focused on manufacturing Ramadan lanterns and became popular within my community in Ezbet El-Borg. I started working in a production unit for handcrafts owned by a friend of mine where I trained girls on how to work with beads and make lanterns.
I started having my own production workshops, where I created new beaded lanterns and started marketing my products in Cairo and Alexandria. Although there was not much demand, I did not give up. A beloved person encouraged me to showcase my products in an exhibition in Ezbet El-Borg since I didn't own a shop at that time. I had 20 girls supporting me with the work during the exhibition. On that day, we made a profit of around 30,000 EGP. My products started getting more popular and since then, I participate in the same exhibition every year. People wait for the exhibition to see my lanterns.
After that, I established my own shop and production unit for handcrafts and started training more girls on various handcrafts such as sewing, drawing, beading, and crochet skills. During summer, we get requests from schoolgirls to join our production unit and as a result, I train around 200 girls each summer.
Before [joining] the UN Women training workshop, I had difficulty in assessing my project's performance. I also faced management and accounting challenges as I was responsible for all these aspects alone. Through the training, I learned how to properly plan and manage my project to ensure its growth and sustainability.
People in Ezbet El-Borg are not used to seeing women entrepreneurs in the community. However, they changed their perception now after seeing me achieving in my field. I hope to have a successful project that would be beneficial for my community and myself.
The COVID-19 pandemic forced me to close the production unit and the shop for some time. We've all been affected and since our clients' economic circumstances were negatively impacted, demand has declined. I never want to need financial support from anyone. I work hard in order to be financially independent.
I believe that Egyptian women can achieve a lot. Every woman should have the chance to enhance her skills and capabilities."
Read in Arabic.