In the words of Hala Mohamed: "A woman can do anything she wants, as long as she is determined. If I can do it, any woman can."
Date:
Hala is a divorced woman who has defied hardship and has broken all stereotypes for women in her rural village. Despite years in an unhappy marriage with no intimate dialogue with her spouse, Hala supported her husband when he fell ill, caring for him for two years while working and providing for their two sons, aged 9 and 11. However, when the tables turned and Hala took a bad fall that left her in recovery for more than a year and cost her an eye, her husband left, and she asked for a divorce. A few months before her accident, she had joined the programme and once she was healed, she set up her own shop.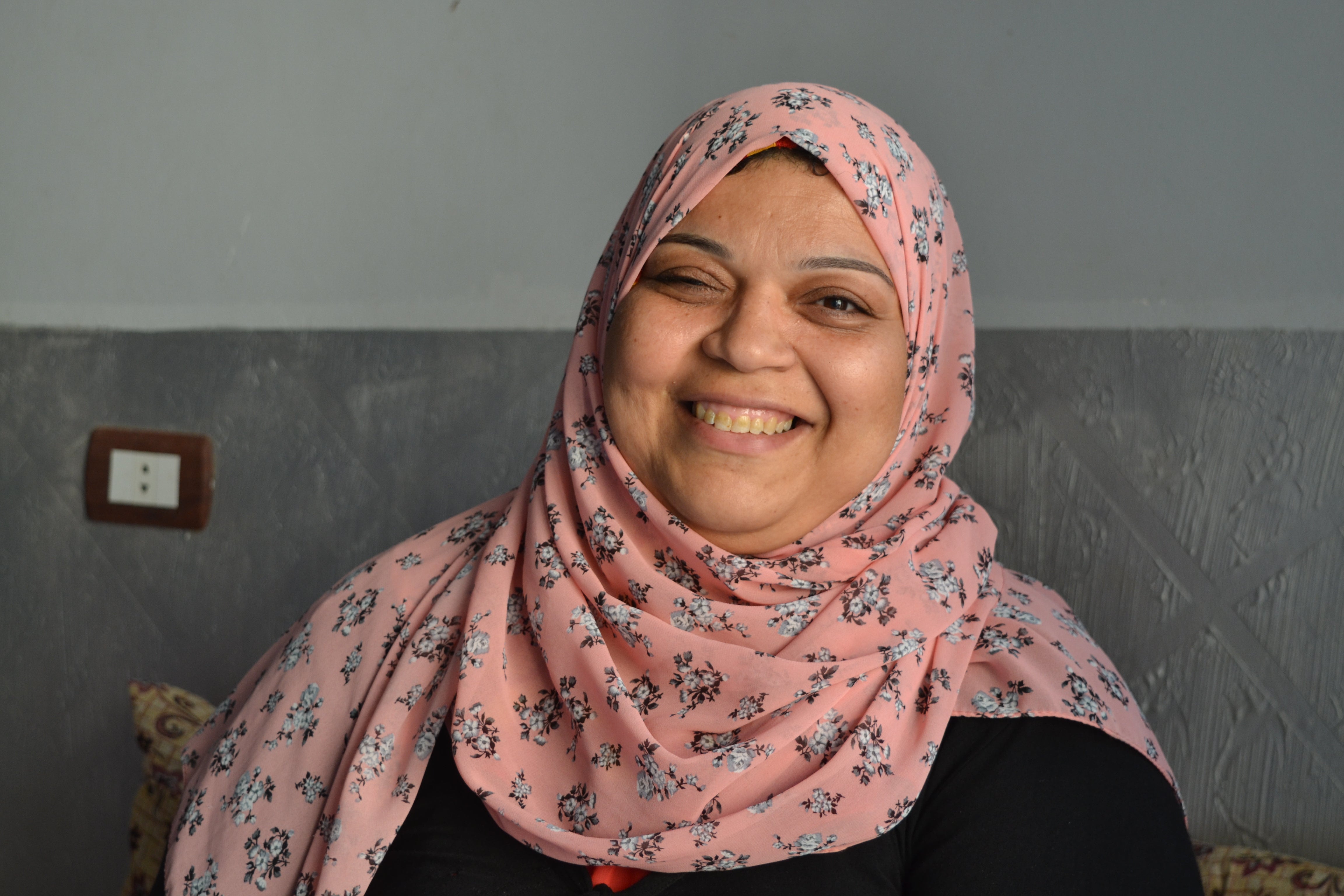 "The programme provided me with a big family that supported me through my recovery period, giving me something to look forward to. The training I received helped me during my recovery period as well. I learned how to depend on myself and to never give up no matter how hard the circumstances are. I wasn't broken after my accident or divorce. I was working on my business independently, hence, I felt strong and calm from inside.
Before the programme, I didn't have a clear plan when it came to what I wanted to do for a living. I was going around doing random jobs here and there. But now, I've learned by experience how to organize my priorities, look into different options and assess risks and benefits properly as much as I can. I learned how to listen and communicate more effectively, which helped me to deal not only with customers and vendors, but also with my two kids. I am grateful that now my relationship with both of my sons is so much better and life at home has become much calmer.
I remember when I got my first income from the shop, I took my boys out to dinner. We were all so happy that day. The sky is my limit when it comes to my dreams. As a bachelor's degree holder, I dream of establishing an e-marketing application one day that can provide women, and housewives in particular, with anything they might need. I dream also of employing women who are in tough situations like me. Most of the women in my neighbourhood need to become financially independent to take proper life decisions.
A woman can do anything she wants, as long as she is determined. I was all alone with two kids at a tough age and with no financial support. However, I was determined to stand on my own two feet. If I can do it, any woman can."
The "Stimulating Equal Opportunities for Women Entrepreneurs" brochure summarizes the results of the strong partnership between UN Women and Procter and Gamble (P&G) that started in 2017 in support of women's economic empowerment in Egypt and promote greater diversity and inclusion through equipping women entrepreneurs with the skills and support they need to access opportunities as potential suppliers and distributors. Women received trainings on business development, marketing, sales techniques, financial management and soft skills. Afterwards, selected women obtained funding to establish their own private business in the retail industry with many being integrated in the distribution channel of many large corporates including P&G, Juhayna, and Mars.
The "Stimulating Equal Opportunities for Women Entrepreneurs" programme is implemented in Beni Suef and Minya, within the framework of the global P&G/UN Women programme. This project is part of UN Women's wider Women's Economic Empowerment portfolio in Egypt, which is implemented in partnership with the Government of Egypt and in collaboration with the private sector.