Beyond the Provision of Emergency Safe Accommodation, the Women's Shelters are Turning into an Inclusive Space for Women's Empowerment
Date: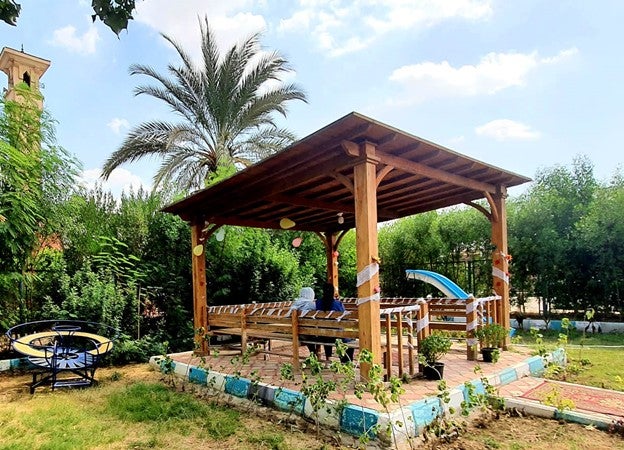 Two survivors enjoying the recreational space at one of the renovated shelters. Photo: UN Women/ Dalia Amin.
Located in a number of governorates across Egypt, the women's shelters have played an essential role in empowering women survivors of violence. As one of the services provided by the Ministry of Social Solidarity (MoSS), the nine women's shelters available, across Egypt, aim to provide a safe and secure accommodation for women survivors of violence and their dependents, in addition to ensuring that these women are given the support to cope with the trauma and move forward through an array of services ranging from psychosocial support and family counselling to medical, legal, and livelihood opportunities. Since 2015, more than 9,000 women and children have benefited from the services that these shelters provide.
Supported by the "Safe Cities Free from Violence Against Women and Girls: Survivor-Centered Approach" programme, implemented by UN Women Egypt in partnership with the National Council for Women (NCW) and the Ministry of Social Solidarity (MoSS), with the generous support of United States Agency for International Development (USAID), four of these shelters were physically renovated. Under MoSS's stewardship, and run by non-governmental organizations, the shelters have adopted a survivor-centered and participatory approach with UN Women's support, to ensure that the needs of the residents and staff are taken into consideration. The newly upgraded shelters now provide more privacy and safety for women survivors and their children, in addition to offering a space for livelihoods' skills development.
Programme interventions have included building the capacity and enhancing the skills of the shelters' staff so that they are more capable of managing and supporting diverse cases. Trainings have focused on case management, psychosocial support, women's legal rights, forms of violence against women, and the application of the international and national commitments to end all forms of discrimination against women.
"Dealing with survivors is not easy. The women of all ages and often their children often arrive at the shelters in very critical medical and psychological conditions, which require a lot of care and attention. Most of the women remain silent for few days," mentions Alexandria shelter supervisor. Following the training workshops received, the staff now know how to approach the survivors, while respecting their privacy and their need for time to acclimate and recount their stories at their own pace.
"For example, one of the young women who visited the shelter could not speak properly because of what she had been subjected to. We gave her time and space and gradually walked her through this phase until she started interacting with the group and was able to open up and share her story," the supervisor explains.
"Here at the shelter, they first helped me by providing a safe place and then they guided me through the legal procedures [that I need to take]," SS*, a young mother-to-be explains that she came to the shelter after being thrown out of her home by her in-laws during her first months of pregnancy when her husband was put in jail due to a street fight. "I suffered a lot [when I was on the street] until I went to a nearby hospital where the doctor helped me reach the shelter…I am now excited about the baby shower party that my friends and colleagues at the shelter have promised to organize for my baby," mentions SS happily, reflecting on the love and care that she receives at the shelter.
To enable women and girls recover and rebuild their self-esteem and gradually become independent, the UN Women programme supported the establishment of income generation units in a number of these shelters through which a wide range of training workshops are offered to help women become financially independent. "We provide training on handcrafts and help survivors set up their own small projects. Trainings include knitting, crochet, making pastries and bakeries", the Giza shelter supervisor adds. In addition to skills development, the Shelters support women's placement in the job market, whenever possible.
"Some of these women come with the will to become more productive and independent but they lack the essential tools to implement their plans including basic legal documents. The shelter helps them with that so that they can resume their education, apply for a job or to start their own business after the training they receive at the shelter", Giza shelter supervisor explains.
"I came to the shelter in a very bad health condition. The supervisor immediately took me to the hospital," says LH*. "Being here and after spending some time getting the psychosocial support needed, I started to take action to rebuild my life. I filed a divorce case against my [abusive] husband but most importantly, being a graduate of Law School - and with the help of the shelter's supervisor - I am starting a new a job as a trainee in a lawyer's office".
With the support of the progamme, the Ministry of Social Solidarity adopted bylaws in early 2020 to increase shelters' accessibility and facilitate the process of admission, allowing women survivors of trafficking, non-Egyptians and women living with disabilities to receive shelters' services for at least six months with their dependents. Today, the shelters serve as a haven to many women and their children, helping them to start a new phase of their lives that is free from violence and full of hope.
*Note: Names changed to protect the identity of the survivors.
Read in Arabic.