"I learned to respect women"—Tuk Tuk drivers join efforts to make the streets of Cairo safe for women
Date:
For Mohamed Nemr, a twenty-four-year-old tuk tuk [three wheeled taxi] driver from the slums of Mansheyet Nasser in the western part of Cairo, Egypt, the streets belonged to men, and women's place was at home. Until recently, he didn't think that women and girls had a right to access public spaces without the fear of sexual harassment.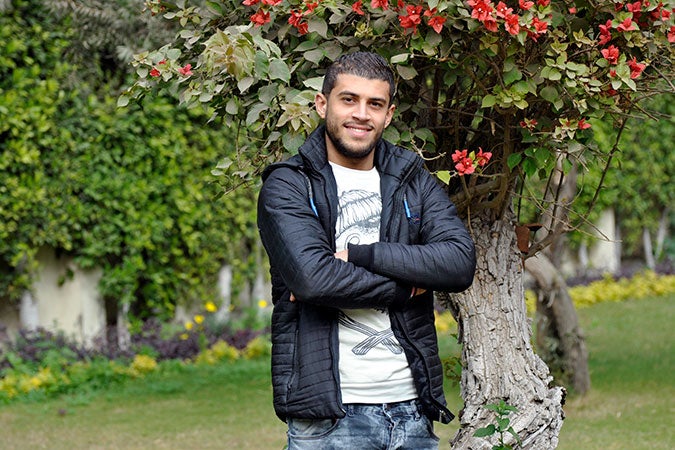 The eldest of five children, Nemr owns one of three million three-wheeler taxis in Egypt, locally known as "tuk tuk". A popular mode of transportation for many, they provide over five million rides daily. Following his parents' divorce, Nemr became the head of the house when he was barely seventeen. The role came with expectations of providing for his family, as well as certain privileges and entitlements. For example, he exercised complete authority over his sisters. "I insisted that my demands were met instantly, and in case they did not respond, I shouted and bickered, which eventually ruined my relationship with them," he recalls.
In November 2010, UN Women started the Cairo Safe City free of Violence against Women and Girls Programme to prevent and respond to sexual harassment and other forms of sexual violence against women in public spaces. Mansheyat Nasser, along with two other neighbourhoods—Ezbet El Haggana and Embaba—was selected to implement the programme, and public transportation, including tuk tuks, were identified as public spaces where women and girls experience sexual harassment on a daily basis. Last year, the programme engaged young tuk tuk drivers like Nemr through sport, interactive games and art therapy workshops. Once sensitized about sexual harassment and trained to prevent and respond appropriately, these young men reached out to their peers and community members to raise awareness about the issue.
After attending various training sessions on self-expression, including acting, singing, painting and sculpturing, Nemr's views on women changed and his relationship with his family improved. "I realized that I was the cause of the problem," he says. "It was me who didn't know how to treat others. The training [sessions] have taught me how to express my feelings and now I can manage my frustrations and violent tendencies in more positive ways."
Today, Nemr is proud of his new role as an advocate for women's rights. He says, "I volunteer in an anti-harassment campaign that talks to tuk-tuk drivers and other community members about how every woman has the right to walk on the street without being harassed. Our messages include women's right to choose how to dress, without having anyone invading their personal space. We also distribute stickers saying, 'My Tuk Tuk is Safe' from sexual harassment."
He has also joined an interactive theater group that tours across Egypt, as part of the Cairo Safe City Programme, talking about a range of issues related to sexual harassment other forms of violence against women, such as women's right to inherit property and right to education. "Through art, I learned, understood and felt that women have rights in the same way that I do. I learned to respect women."
"Nemr's personality changed as he went through the programme; now he has better relations and greater respect for women. Some women even take his phone number and call him for their tuk-tuk rides because they have had a safe journey to their destination and he has treated them with respect," said Ahmed Nakabassi, UN Women Programme Assistant in Egypt.
"My relationship with my family has also improved," added Nemr. "Now I talk to them without violence or agitation. I now understand myself better and have a purposeful life."
Nemr is one of 230 volunteers who are participating in the programme in Egypt. The Cairo Safe City programme is one of the founding city programmes in UN Women's Safe Cities and Safe Public Spaces with Women and Girls Programme with CARE International in Egypt as implementing partner and supported by The National Council for Women, the Spanish Agency for International Development Cooperation (AECID), United States Agency for International Development (USAID), the Government of the Netherlands and the European Union (EU).