Leadership and political participation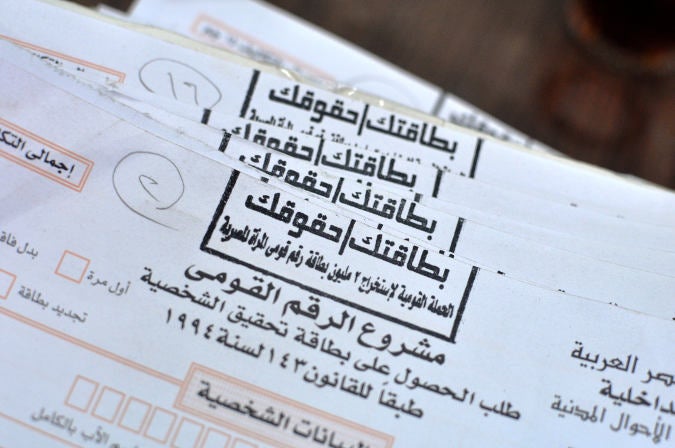 Egyptian women have been struggling for decades to make their voices heard as voters and candidates for legislative and elected bodies. Women's right to vote and stand for election was first enshrined in the 1956 Constitution and reaffirmed in subsequent constitutions including the most recent one adopted in 2014. However, since obtaining their political rights, women's parliamentary representation has been marginal varying between 0.5% and 2.6%, except when the quota system and the proportional list system were used for the elections in 1979, 1984 and 2010. Women played a significant role in shaping political realities in Egypt in the past. As a result of the 2015 parliamentary elections , which completed the final step of political transition, women's representation in parliament made a remarkable increase to 15%.
Building on this momentum, UN Women Egypt provides various types of support to promote women's political representation and participation as well as access to leadership positions. Interventions focus on supporting female political candidates to strengthen their capacities to contest parliamentary and local council elections, as well as providing capacity building and networking opportunities for newly elected and re-elected women members of parliament
Also, UN Women Egypt supports women's political participation through - together with the National Council for Women and other partners - issuing national ID cards for women There is an estimated 5 million women across Egypt who have no form of identity registration, which prevents them from voting, and accessing social protection and other government services, including education and health care.
In response to the insufficient level of understanding of the purpose and benefits of identification among many women, particularly in the rural areas, UN Women Egypt has created a cadre of Youth Ambassadors for Women's Citizenship, who - trained on advocacy and actively - reach out to women in ten governorates, facilitating the civil registration process and the issuance of national ID cards for women.
The historic changes in the area of women's leadership and political participation provide an opportunity to further promote gender-responsive legislations policy-making in line with Egypt's international commitments on gender equality and women's empowerment, including greater representation of women in decision-making positions at all levels. This includes the ongoing support to female candidates for the local council elections, where a 25% quota for women opens the space for the participation of at least 13,500 female local council members across Egypt.