In the words of Mariam Naoum: "Competition is hard and continuity is harder. Don't give up quickly."
Date:
Mariam Naoum, 43, is an award-winning scriptwriter and women's rights advocate. Her work addresses socioeconomic challenges the marginalised face, with a particular focus on women's issues. Naoum's (Sard Workshop) latest movie "Between Two Seas" is a joint collaboration between the National Council for Women in Egypt, UN Women, and was made possible through the generous support of the Government of Japan and United States Agency for International Development (USAID). The film is directed by Anas Tolba and produced by Axeer.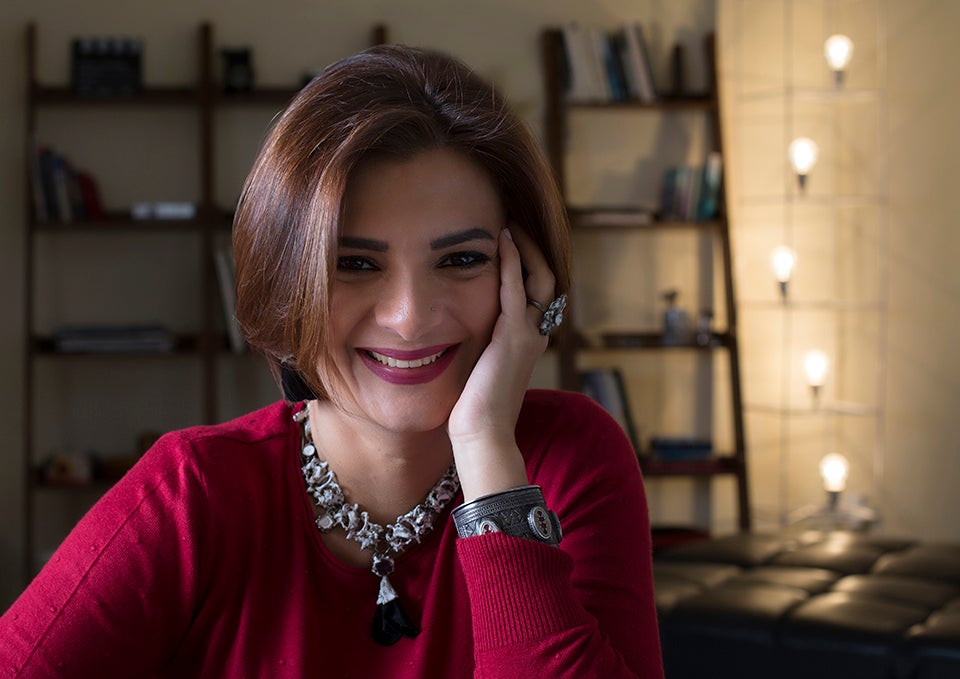 "There are more problems facing women than men in our society: from female genital mutilation to early marriage, sexual harassment and violence against women. Society gives itself the right to oppress women, who then fight for respect of the very rights that should be theirs.
When I write scripts, I focus on society's oppression of women. I didn't actively decide to write about women's problems, but because I am a woman and I deeply feel women's problems, I was drawn to these topics.
Women's voices are important, and during COVID-19 specifically, we have a lot of stories to tell based on our experiences of the crisis – the coronavirus pandemic is [disproportionately and] adversely impacting women, particularly the breadwinners.
Women scriptwriters can contribute in shedding the light on women's issues and rights and reflect what women really feel, to initiate societal dialogue aiming at creating positive change in women's lives.
I believe that the best way to truthfully portray women is to offer female scriptwriters more opportunities through attending workshops (in Egypt). The percentage of women scriptwriters now ranges between 20-30 per cent [of total participants], which is a positive sign.
Young women who would like to break into the field, must read (and learn). Read to grow faster and enrich life experience. Put effort into studying and training to have a successful start in the field.
Determination is the second key to success. Competition is hard and continuity is harder. Don't give up quickly – script-writing is a craft that needs to be developed and improved through the years; it requires determination, patience, perseverance, and continuous learning.
I think the biggest challenge that young women, who wish to pursue a career in the film industry field, face is convincing their families, followed by perseverance and patience to endure the hardships that this industry impose to be able to prove themselves and succeed, similar to the previous female filmmakers since the time of Aziza Amir (one the first Egyptian filmmakers) till today.
At the beginning of my career, the foremost challenge that I faced was starting with a project [script] that reflects my ideas and principles even if it took a lot of time to achieve this goal. My first film "One-Zero" was produced 9 years after my graduation from High Cinema Institute, where I studied screenplay for 4 years. During the 9 years, I was keen on learning more and gaining experience on the side of my field of work until I became ready to take the first step in my career.
It is important to have a gender-diverse film industry in Egypt [where young men and women have equal opportunities], as the industry plays a significant role in addressing the society's sentiment and impacting behaviours in general.
We need to have more educational opportunities for talented people who want to join the film industry. If women are educated properly and regularly, they'll have better opportunities in the field. Families should also encourage their girls who want to work in the field.
I believe that in order to promote gender equality, we need to respect the innate human rights of every individual, ensure that competition in the workplace is centered on talent and hard work, not gender, and encourage families to provide equal educational opportunities (basic and university education) for their sons and daughters."
Read Arabic