Growing women-owned businesses in Egyptian governorates
Date:
If you visit Beni Suef anytime soon, you may find a group of women heading out in the morning with a range of products from Procter & Gamble (P&G) to sell them door-to-door in surrounding villages, or you may come across one of their little shops.
Women-owned businesses (WOBs) remain to be one of the most underrepresented businesses in the supply chain, with limited access to both products and customers. At the same time, increasing supplier diversity has proven to be a productive approach for companies, which helps them generate more profit.
With this in mind, UN Women and P&G have rolled out their Stimulating Equal Opportunities for Women Entrepreneurs programme in Egypt to provide women with the skills and support they need to access P&G's opportunities as potential women suppliers and distributors, creating a win-win situation for both the WOBs and P&G. The women are provided access to P&G products at wholesale prices and then sell them in surrounding communities. Therefore, the women are able to buy more products at a cheaper price and P&G is able to reach marginalized areas and expand their customer outreach.
In a short timeframe, three women-led companies in Beni Suef, which employ 30 women, in the retail industry have been established, equipped and legalized. The companies also have been codified to become permanent sub-distributors in P&G's distribution channel. In the first six months of this partnership alone, the women were able to increase their revenue 40-50%.
UN Women and P&G also focus on providing women with trainings to strengthen their business and financial skills and to improve their capacity at business management. More than 130 women entrepreneurs in rural and marginalized areas were provided with capacity building trainings on door-to-door selling techniques, business and cash management, financial literacy, marketing, and soft skills. As a result, women entrepreneurs succeeded in expanding their business to 340 villages, reaching 79,000 buyers and earning 400,000 EGP.
UN Women sat with a few women from Beni Suef to learn more about how their work through the programme has positively impacted their professional and personal life.
Amal Mahmoud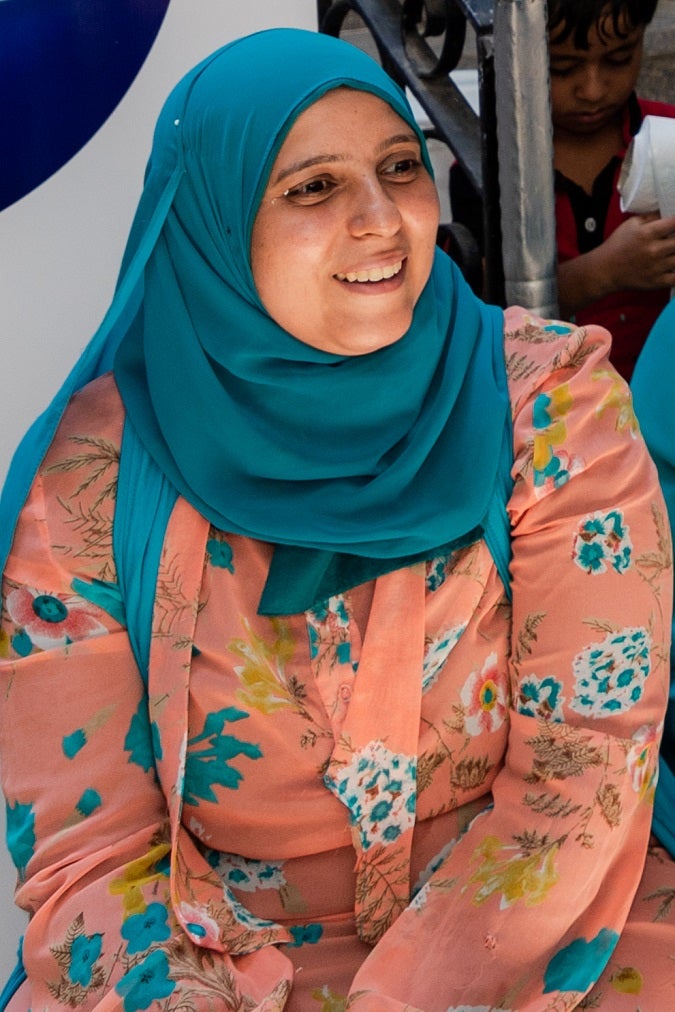 "I heard about the programme through my friends who had attended the trainings and they encouraged me to join. My husband objected at first to the idea of me working while I was pregnant, but I managed to convince him. Now, they call my son 'The Project's Son'.
The programme and my work in the field have increased my self-confidence and I have learned how to deal with people from different backgrounds and how to overcome challenges. I've also learned the art of marketing. I realized the difference between the theoretical business concepts I learned during my university education and actually working on ground and how they both compliment each other. The programme has helped me develop myself and become independent. The good profit we're making since the beginning of the programme, has also increased my income."
Hanady Yassin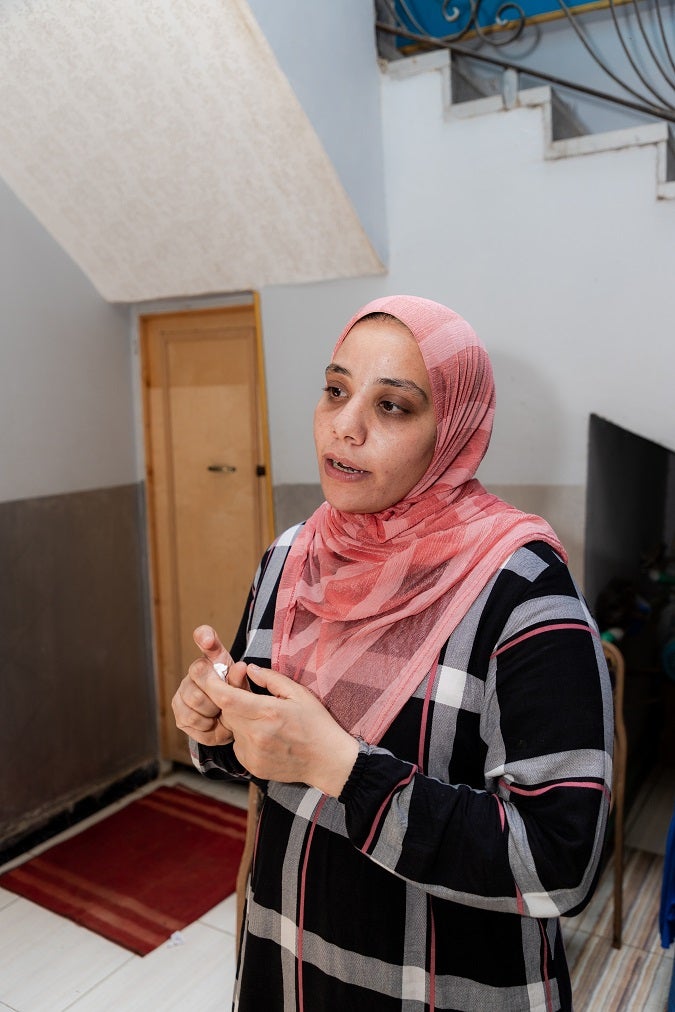 "My husband provides for our family very well, but I choose to work for myself and for my children, so that I don't have to wait until he returns home to buy our necessities, and I can now depend on myself. The programme has helped me widen my social network and to create my own identity and become independent. I want to succeed, and I want to grow my business and the products' portfolio."
Mona Salah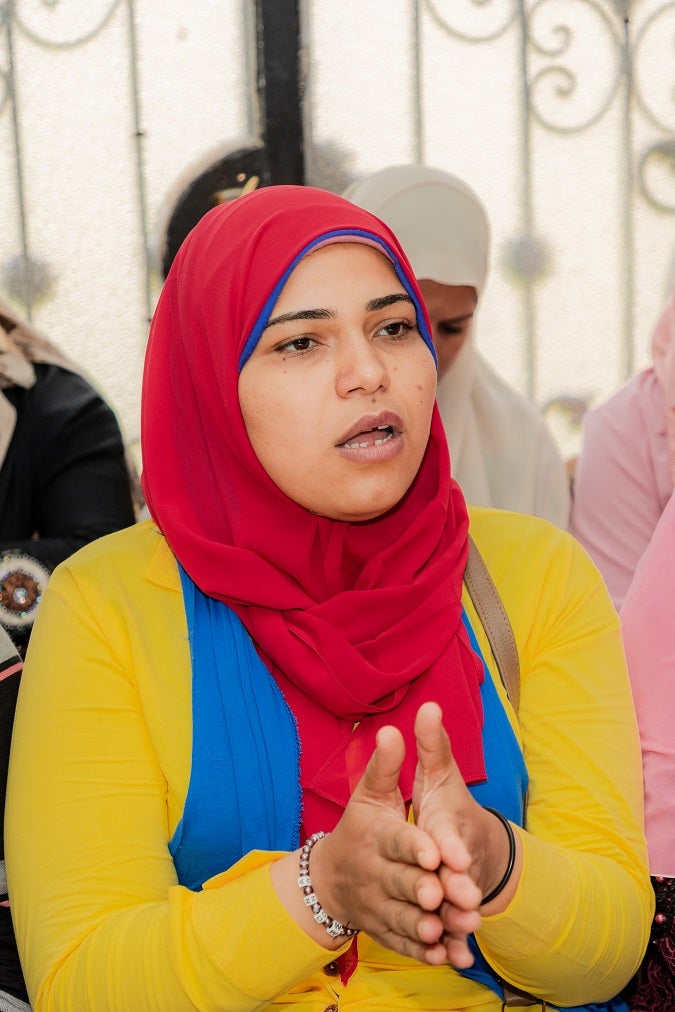 "The programme has helped me feel more secure because it provides me with a steady income. I learned how to work well with a team and to organize and coordinate our work efficiently.
Through the programme, I am not only helping myself, but I am helping others too. A large segment of our products consists of sanitary pads, and so we always try to educate women and girls on personal hygiene practices and the importance of using sanitary pads instead of traditional methods that may harm them."
Sabah Saleh
"Before the programme I wasn't working, and my husband didn't have a secure job as well. Therefore, we never had a steady income. However now, I have a secured monthly income that would help me buy anything we need and provide everything for my children, without asking for help from anyone. I am now free to spend the money where I want and with my control.
On the days I sell a lot and gain much profit, I find my manager praising me and the achievement I have made. This encourages me to work even harder and prove myself more."
***
The "Stimulating Equal Opportunities for Women Entrepreneurs" programme is a UN Women flagship programme carried out simultaneously in Egypt, Pakistan, South Africa, and Nigeria. In Egypt (Beni Suef, Cairo, and Minya), the project is focusing on: (1) creating a pool of women-owned businesses that can be integrated into the P&G supply chain and distribution channel for greater diversity and equity, and (2) providing women with trainings to strengthen their business and financial skills and improve their capacity at business management. This programme is funded with the generous support of P&G over two years from 2017-2019.
Read in Arabic.