UN Women Egypt Commemorates the Launch of 16 Days of Activism to End Gender-Based Violence
Date: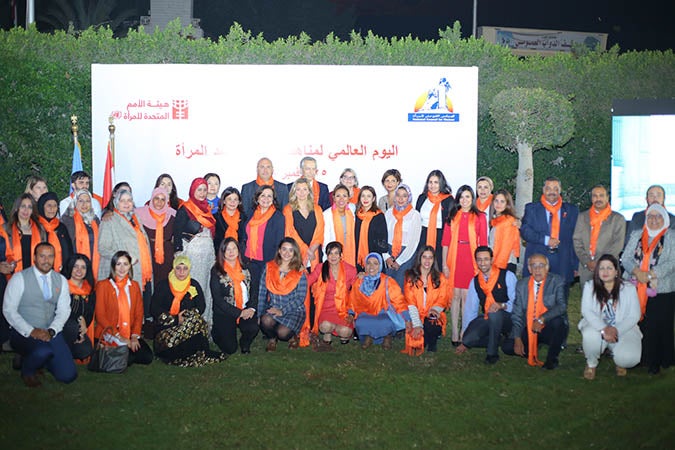 Cairo, 26 November 2018 -  United Nations Entity for Gender Equalityand the Empowerment of Women (UN Women) in Egypt in collaboration withthe National Council for Women (NCW) hosted an event on 25 November, theinternational day for the elimination of violence against women, at theMena House hotel to mark the launch of the "16 Days of Activism to EndGender-Based Violence" under the global theme "#HearMeToo". The eventtook place at the backdrop of the majestic Giza pyramids lit up inorange, symbolizing a bright future free from violence against women andgirls.
The 16 days of activism is an international campaign, linked with theUN Secretary General's UNiTE campaign, which starts on 25 November(International Day to End Violence Against Women) till 10 December(International Human Rights Day). The 16 days campaign provides anopportunity to bring together the whole community to work to endviolence against women, promoting a change in mindset and culture whereviolence is no longer accepted. This year in Egypt, a wide range ofevents will be held by different partners during the 16 days ofactivism.
 "In line with the global theme #HearMeToo, each and every one ofus and specially the youth has a duty to listen to and believe survivorsof violence to end the culture of impunity for abusers and to putsurvivors at the center of efforts to respond to their needs," statedMs. Blerta Aliko; UN Women Country Representative.
"Violence against women is a problem worldwide. Violence againstwomen is a form of discrimination directed against a woman because sheis a woman and it seriously inhibits women's ability to enjoy rights andfreedoms on the basis of equality with men," stated Richard Dictus,United Nations Resident Coordinator. In his remarks, Ambassador AhmedIhab Gamal EL-Din, Assistant Foreign Minister emphasized the importantrole of women that women play in the society. "It is no exaggeration tosay that women are not half the society, but the whole society. It is nowonder that their care, protection and development is a fundamentalpillar for the advancement of society as a whole," stated AmbassadorAhmed Ihab Gamal EL-Din.
"Egyptian women are strong women with the testimony of all who dealwith them despite the existence of violence and lack of resources, butEgyptian women have the ability to challenge all difficulties. It isimportant to involve men and youth in the issue of violence againstwomen," highlighted Dr. Maya Morsy, President of the National Councilfor Women.
Additionally, a keynote address was delivered by Dr. Mona Zulficar;Founding Partner & Chair of the Executive Committee of Zulficar& Partners Law Firm. "We should work more seriously onimplementation of laws and holding perpetrators accountable and oneducation and culture as preventive methods for avoiding all forms ofviolence against women. We should all, men and women, unite to declarethat the voices of women must be heard and that we will no more tolerateany form of violence against women and girls," mentioned Dr. MonaZulficar.
Subsequently, two inspirational speakers: Samar Hamdy; Farm Worker atDaltex and one of the beneficiaries of Women's Employment PromotionProgramme and Omar El-Borolossy, Egyptian Squash Player, shared theirpersonal stories with the audience. Samar Hamdy reflected on her ownviews regarding violence against women highlighting that she decidedthat she will not let her daughters undergo female genital mutilation asshe does not want them to go through the same harmful experience thatshe had been through years ago. She also explained how she is now anindependent woman who enjoys her own secured job at Daltex. "In light ofending violence and discrimination against women, sports is a greattool to promote the ideas," mentioned Omar El-Borolossy reflecting onhis own experience as an advocate of women's rights and a squash player.
The event was attended by more than 100 guests from various UNagencies, embassies, civil society organizations and other partners.Apart from the launching event, UN Women Egypt launched a social mediacampaign featuring Menna Shalaby and Hany Adel focusing on sexualharassment in transportation. The campaign was officially launchedearlier yesterday in the presence of all partners including H.E Dr.Sahar Nasr; Minister of Investment and International Cooperation; Dr.Amr Shaath; Deputy Minister of Transport; Dr. Dina Fouad, Undersecretaryof the Sports Ministry; Dr. Maya Morsy; President of the NationalCouncil for Women; H.E. Stephane Romatet; Ambassador of France to Egypt;H.E. Julius Georg Luy; Ambassador of Germany to Egypt; H.E. Mr. IvanSurkos; EU Ambassador to Egypt; Dr. Wessam El-Beih, Dorosos FoundationCountry Director; Yasmeen Hamdan, Head of Project, GIZ, Youth againstSexual Harassment and Salem Massalha; Co-founder of Bassita, theproduction company.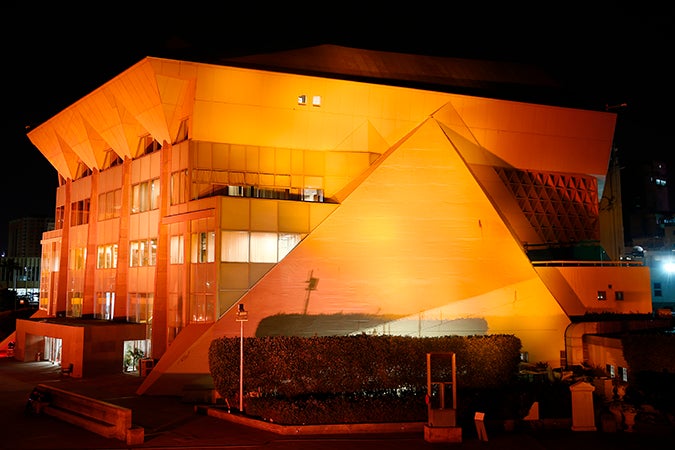 UN Women Egypt also marked the beginning of the 16 days of activismin Alexandria through organizing a seminar in partnership withBibliotheca Alexandrina. The seminar was attended by Dr. Maha Maaz,Supervisor of Women's Studies and Social Transformation Program (WSST)at Bibliotheca Alexandrina; Ms. Gielan El-Messiri, Gender Specialist, UNWomen and Ms. Magda El-Shazly, National Council for Women. In theevening, the premises of Bibliotheca Alexandrina lit up in orange toraise awareness about the 16 days of activism, symbolizing a world freefrom violence against women and girls.
Read
Arabic