Safe Cities Programme Celebrates the Opening of Imbaba's Women Friendly Space
Date:
(Cairo, 20 May 2018) – Yesterday, the Giza Governorate, the National Council for Women, the United Nations Entity for Gender Equality and the Empowerment of Women (UN Women), the United States Agency for International Development (USAID) and Future Eve Foundation celebrated the opening the first 'women-friendly space' in Imbaba, Giza governorate.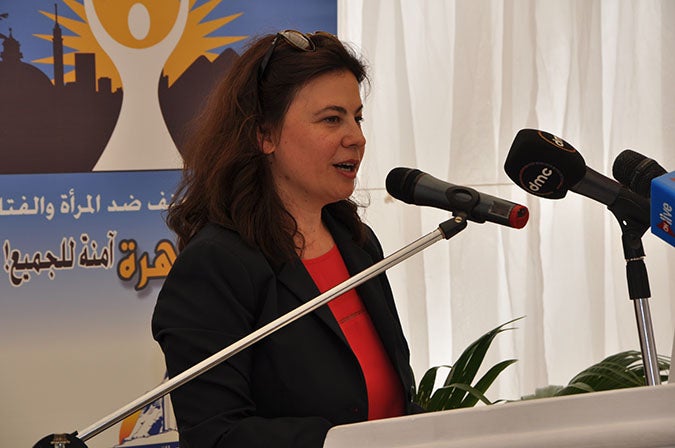 The 'women-friendly space' aims to provide a safe and inclusive community-owned space that offers quality and cost-effective services to the local community with a focus on activities promoting the rights of women and girls. Meetings with community members were organized to better understand the community's needs and concerns to inform the design of the 'women-friendly space'. A playground, seating area, and new landscaping were made in addition to physical improvements to the adjacent space to improve the pedestrian side-walks and circulation pattern nearby thus, enabling people with disabilities and with low mobility to access the space. A local committee was appointed to manage the 'women-friendly space', ensuring its maintenance and financial sustainability.
This project falls under the 'Greater Cairo Safe City and Safe Public Spaces' programme, that was launched in 2011 as one of the founding programmes of the 'Safe Cities and Safe Public Spaces' Global Flagship initiative of UN Women. The programme targets three low-income neighborhoods, namely: Imbaba, Manshiet-Nasser, and Elhagana, and is implemented in partnership with the National Council for Women, Giza governorate, Care International in Egypt and three civil society organizations. Cities participating in this global initiative commit to ensuring that women and girls are socially, economically, and politically empowered in public spaces that are free from sexual harassment and other forms of violence against women.
"This event builds on years of community engagement and awareness raising activities to change negative attitudes and beliefs about gender roles and stereotypes that perpetuate discrimination and violence against women and girls. It would also not have been possible without the strong collaboration between governmental and civil society organizations", stated Blerta Aliko, UN Women Country Representative.
Opening remarks were given by H.E Dr. Manal Awad, Deputy Governor of Giza; Dr. Ikbal El-Samalouty Founder and Managing Director, Future Eve Association, Ms. Blerta Aliko, UN Women Egypt Country Representative; Dr. Naglaa El-Adly, Head of External Communications and International Relations Department at the National Council for Women; Ms. Dorothy Shea, Deputy Chief of Mission at the American Embassy and H.E General Mohamed Kamal El Daly, Governor of Giza.
For media inquiries, please contact:
Mona Soliman, Communication and Digital Media Associate, UN Women Egypt, [ Click to reveal ]