Ending violence against women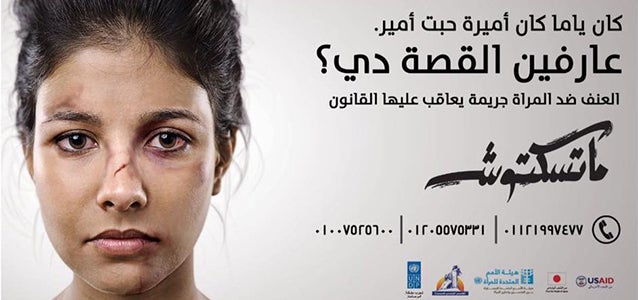 With the aim to strengthen legislative and institutional frameworks that ensure effective prevention and response to VAW&G, UN Women Egypt Country Office provides technical and financial support to the development of the National Strategy to Combat Violence against Women, which was adopted in April 2015. The Strategy resulted from inclusive and structured consultations between the National Council for Women, several line ministries and civil society organizations. Following the adoption of the National strategy, and to translate the ambitious goals into action, several innovative awareness raising interventions engaged youth and children at community level. In parallel, a large-scale media campaign, including unique Public Service Announcements that were aired on prominent TV and radio channels, and billboards that were displayed on major highways, contributed to breaking the silence and sparking a public debate on VAW&G.
In the upcoming years, UN Women Egypt will continue to support (1) awareness raising through media campaigns and at the community level (2) strengthening of policies and legislation, (3) establishing of a specialized case management system for women survivors of violence, and (4) making markets and public transport safer for women and girls.