Economic empowerment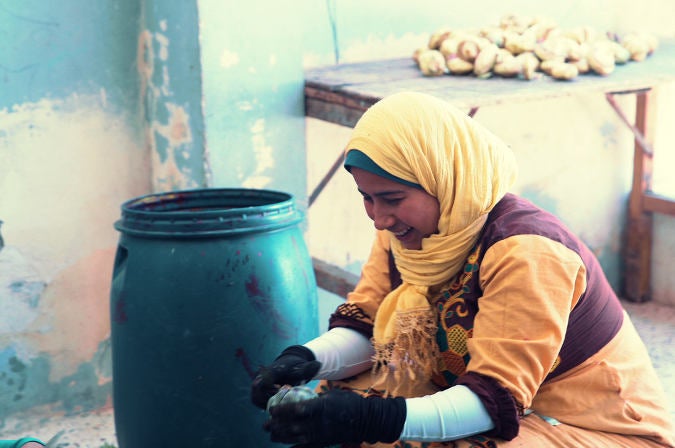 As Egypt is pursuing the twin goals of inclusive growth and social justice, focus on the role of women as an important contributor to economic progress is gaining increasing attention.
Female labour force participation in Egypt has been low and has remained stagnant over time, with women's labour force participation at 23.1% [1], and women's unemployment rate 2.5 times higher than that of men [2]. Reasons for such low figures include the gender gap in wages and segmentation of the labour market, barriers to access finance and markets, high reproductive rates especially in rural areas, and unequal gender division of unpaid domestic work. Consequently, women remain disproportionately affected by poverty and discrimination and are concentrated mainly in informal, insecure, low-wage jobs or in fields with little if any social protection, and career progression opportunities.
At the same time, women's economic empowerment is not only the right thing, but also the smart thing to do. Research shows that if female employment rates were equal to those of men, then Egypt's Gross Domestic Product could increase by up to 34%.
Against this backdrop, UN Women Egypt supports the creation of an enabling environment for women entrepreneurs through providing tailored packages of financial and non-financial services as well as assets to enhance employment opportunities. In addition, skills of poor and marginalized women are being improved so that they work and act collectively through the formation of Village Savings and Loan Associations (VSLAs) and women-led productive economic clusters. In 2015, 16,417 women (from 18-45 years old) and around 47,000 extended family members in Egypt's most impoverished areas were reached. These interventions had contributed to increasing women's income by 50% and strengthened their ability for self-employment and financial independence.
UN Women Egypt has also started to expand its partnerships with private sector companies, to have women's empowerment considerations reflected in business decisions. UN Women continues to facilitate a policy dialogue about the role of women as a key agent of economic and societal advancement with a cross-section of policy-makers and opinion-leaders, building on the findings of UN Women's flagship knowledge product Progress of World's Women Report: Transforming Economies, Realizing Rights (April 2015).
[1] Egypt Labor Market Panel Survey, 2012
[2] CAPMAS, 2014