Egyptian Agribusinesses Celebrate International Women's Day
Date: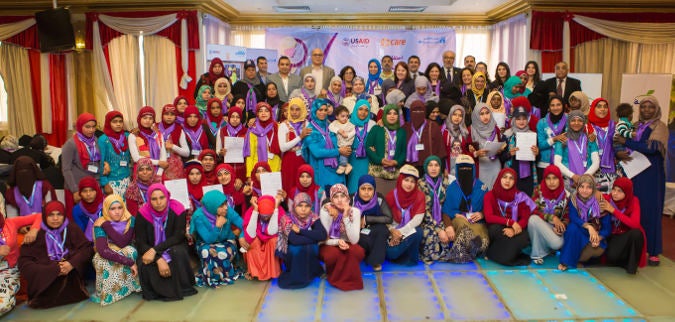 The United Nations Entity for Gender Equality and the Empowerment of Women (UN Women), held a ceremony last Wednesday (March 7th) on the occasion of signing permanent contracts for more than 150 women in the agricultural sector by four agribusiness companies in Minya governorate. The ceremony was held within the framework of "Enhancing the Role of Women Working in the Agricultural Sector" programme, funded by the United States Agency for International Development (USAID) and implemented by UN Women in partnership with the National Council for Women and CARE.
"Investing in addressing the barriers to women's decent employment, retention and equal opportunities to exercise their full potential is not only the right thing but also the smart thing to do. The private sector is a critical partner and has a key role to play in the realization of inclusive socio-economic development by leveraging economic dividends and the overall growth towards achieving women's empowerment.", stated Blerta Aliko, UN Women Country Representative, in her opening remarks.
Commemorated annually on March 8, International Women's Day is a global day celebrating the social, economic, cultural, and political achievements of women. The day also marks a call to action for accelerating gender parity. One way USAID and UN Women are accelerating gender parity in Egypt is by improving working conditions for women in the agribusiness sector through the Women Employment Promotion Program. 
"Empowering women – helping them to be safe in the workplace or on the way to their jobs – yields strong economic returns and is key to sustainable development" said USAID Deputy Mission Director Rebecca Latorraca.  "When women-friendly employment conditions are implemented, everyone wins – businesses have higher productivity; employees have secure jobs and livable wages, and the communities are financially stabilized."
The Women's Employment Promotion Program has helped 235 women, including those who participated in the event, sign employment contracts that guarantee coverage of social benefits, regular working hours, and pre-determined wages; supported 1,686 current and potential women workers and 315 men through training; and improved the working conditions for 900 women at 10 firms primarily in Upper Egypt. 
Read Arabic