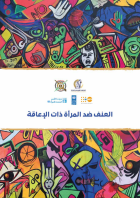 The National Council for Women released the first national study on "Violence against Women with Disabilities" in February 2022, which is one of the first studies globally on such topic. The results of the study are based on surveying 6000 recipients of "Takaful and Karama" program, implemented by the Ministry of Social Solidarity. The study presents knowledge on the different forms of violence, its underlying causes, and the ability to access services as well as the experiences of women with disabilities in Egypt, focusing on the intersectionality between gender, disability and poverty.
This Policy Brief highlights the impact of COVID-19 on persons with disabilities and in doing so, outlines key actions and recommendations to make the response and recovery inclusive of persons with disabilities. While the brief contains specific recommendations focusing on key sectors, it identifies four overarching areas of action that are applicable for all.
This brief highlights emerging trends and impacts of COVID-19 on online and ICT-facilitated violence against women and girls (VAWG). It provides examples of strategies put in place to prevent and respond to online/ICT-facilitated VAWG and makes recommendations on how different actors can best address this issue. It is a living document that draws upon the knowledge and experience of a wide range of experts.