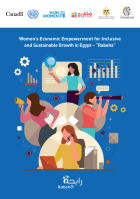 The main goal of the JP is to support the economic empowerment of more than 6,300 women through increased access to employment and/or self-employment opportunities through extending a tailored package of demand-driven services to different actors in the Egyptian labour market by providing pathways for capacity-development and growth to women jobseekers, women entrepreneurs, private sector companies and investors, in collaboration with government institutions and prominent partners.

The "Stimulating Equal Opportunities for Women Entrepreneurs" brochure summarizes the results of the strong partnership between UN Women and Procter and Gamble (P&G) that started in 2017 in support of women's economic empowerment in Egypt and promote greater diversity and inclusion through equipping women entrepreneurs with the skills and support they need to access opportunities as potential suppliers and distributors. Women received trainings on business development, marketing, sales techniques, financial management and soft skills. Afterwards, selected women obtained funding to establish their own private business in the retail industry with many being integrated in the distribution channel of many large corporates including P&G, Juhayna, and Mars.
This project falls under the 2021-2024 Multilateral Cooperation Programme for Gender Equality in Egypt supported by KOICA and is managed and implemented by UN Women Egypt in partnership with the National Council for Women (NCW), the Ministry of International Cooperation, the Ministry of Education and Technical Education, the Ministry of Manpower, and in collaboration with educational institutions, private sector and civil society. The "Women's Economic Empowerment" project aims to economically empower women through access to capacity development, decent employment opportunities and enhanced community and labor market support for gender equality.