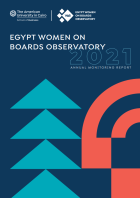 The 2021 Women on Boards Observatory annual monitoring report contains analyzed data of the Egyptian Exchange (EGX) listed companies, the banking sector, public enterprise companies, and the Financial Regulatory Authority (FRA) companies. The women on boards indicator have significantly improved from 13 percent in 2020 to 16.7 percent in 2021 – a growth of 28.5 percent in one year, reflecting an improvement towards achieving 30 percent representation of women on corporate boards by 2030. The report shows a total number of 1,043 women on boards of companies and banks in 2021, a growth rate of 46 percent.
With many businesses struggling to survive as a consequence of the coronavirus disease (COVID-19) outbreak, loss of jobs and income and rising working poverty are a reality for many workers. This document offers (interim) recommendations for employers to mitigate the negative consequences stemming from COVID-19.
This training manual aims to build the capacity of service providers on case management and psychosocial support to women and girls' survivors of violence or exposed to its risk. This manual offers a detailed guideline for the quality principles and necessary skills that service providers can refer to and adopt to effectively respond to women's and girl's needs, develop safety intervention plans and refer them to essential services providers (legal, medical, psychosocial support) given the crucial role of case managers and service providers.