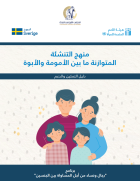 The "Gender-Transformative Parenting Manual" aims at enhancing the adoption of gender transformative practices to create more gender equitable spaces at home through challenging stereotypical gender norms and encouraging men and boys to participate in the unpaid care and domestic work; in addition to emphasizing the importance of couples' communication and promoting full access to women's economic and educational rights. It also promotes positive behavioral change through empowerment, highlighting individuals as change agents and focusing on increasing their abilities and knowledge of gender-equitable parenting. It targets national and local stakeholders in efforts to advance gender equality and the empowerment of women.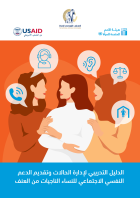 This training manual aims to build the capacity of service providers on case management and psychosocial support to women and girls' survivors of violence or exposed to its risk. This manual offers a detailed guideline for the quality principles and necessary skills that service providers can refer to and adopt to effectively respond to women's and girl's needs, develop safety intervention plans and refer them to essential services providers (legal, medical, psychosocial support) given the crucial role of case managers and service providers.
These Flyers are about Women's Employment and their Rights in the Egyptian Labor Law.  Under the Joint programme "Promoting productive Employment and Decent Work for Women in Egypt, Jordan, and Palestine" and within the framework of enhancing inclusive learning and conducive environment for Technical and Vocational Education and Training (TVET) for girls, these informative flyers have been produced to explain that the Egyptian constitution, International agreements, covenants and...