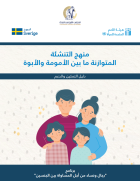 The "Gender-Transformative Parenting Manual" aims at enhancing the adoption of gender transformative practices to create more gender equitable spaces at home through challenging stereotypical gender norms and encouraging men and boys to participate in the unpaid care and domestic work; in addition to emphasizing the importance of couples' communication and promoting full access to women's economic and educational rights. It also promotes positive behavioral change through empowerment, highlighting individuals as change agents and focusing on increasing their abilities and knowledge of gender-equitable parenting. It targets national and local stakeholders in efforts to advance gender equality and the empowerment of women.
This toolkit is about how youth can advocate strategically for gender equality and empowerment of young women. It highlights ways in which youth can influence decision-making at community, local and national levels to achieve gender equality. An important running thread through the toolkit is on engaging young men as gender equality advocates.
UN Women Achievements Report gives a comprehensive overview on the main programmes implemented by UN Women Egypt during 2018 in collaboration with its various partners across the four impact areas: Women's Political Empowerment (WPE), Women's Economic Empowerment, Ending Violence against Women (EVAW) and Engaging Men and Boys in Gender Equality. It also features the main achievements of the programmes while highlighting the progress made under communications and partnerships.