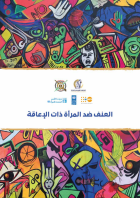 The National Council for Women released the first national study on "Violence against Women with Disabilities" in February 2022, which is one of the first studies globally on such topic. The results of the study are based on surveying 6000 recipients of "Takaful and Karama" program, implemented by the Ministry of Social Solidarity. The study presents knowledge on the different forms of violence, its underlying causes, and the ability to access services as well as the experiences of women with disabilities in Egypt, focusing on the intersectionality between gender, disability and poverty.
Women play an outsized role in the care economy in the Arab States, performing 4.7 times more unpaid care work than men – the highest female– to–male ratio anywhere in the world.  Building on unique analysis of the care economy in the Arab States, this report produces evidence–based policy recommendations for investing in the care economy in the region, and includes four country case studies from Egypt, Jordan, the State of Palestine and Tunisia. The report is...
Based on lessons learned from past outbreaks, this brief outlines the gender issues related to the COVID-19 pandemic and response in Egypt.